This October, the second part of the adventure video series "Dirt Wheels" can be watched on the Discovery channel on the CS Broadcasting System. The show captures the off-road antics of comedian Yoshio Kojima as he drives his vehicle through the rugged roads of Mount Fuji.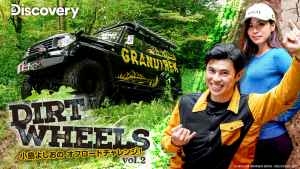 Our production team was involved in the shooting of the first and second parts. Part 1 was received with great reviews, and we expect Part 2 to continue delighting the viewers. This time, our production team tried something different during the filming and editing process, so check it out.
Watch the video series through this link:
YouTube

Here are more details about the show:
Program name: "Dirt Wheels: Yoshio Kojima's Off-Road Challenge Vol. 2" (Japanese only)
Broadcast date and time: Every day in October from 9:55 p.m.
Broadcast media: CS Discovery Channel 340